The Underdog Awards
Welcome back to the Underdog Awards.
The year 2013 saw some terrific films and terrific performances, like with any year a lot of praise was heaped on the leading men and women and rightly so. This year however saw tons upon tons of show stealing supporting performances. Such that the honorable mentions on my nomination list are close to the ten nominees, such that these ten nominees for supporting role could have easily as well featured on any awards show this year (barring certain tastes and rulings).
Here's a few major snubs and mistakes that the Oscars made for supporting roles;
-Julia Roberts was the lead of August: Osage County not supporting
-While he got nominations at other awards, Daniel Bruhl was unfairly snubbed by the Academy for his work in Rush. At the same time I know he was promoted as supporting, but in truth Bruhl should have been in the running for Lead Actor
-James Gandolfini also got unfairly overlooked for a post-houmous nomination after campaigns on his behalf
-Neither Bradley Cooper (American Hustle) nor Jonah Hill (The Wolf of Wall Street) should have been nominated for their performances, this was a typical Hill showing where as Cooper had a better performance in The Place Beyond The Pines in the same year. It just seemed like a major shut out of any other films than the few varied in the Oscar nominations. Not saying they didn't have good performance, I'm just saying better ones bit the dust.
-James Franco supposedly campaigned, James Franco lost. His Alien in Spring Breakers was a shockingly brilliant turn for the actor
I have no idea about any other notable campaigners for the supporting awards...but anyways onto my two awards for this post...
Underdog Award for Best Actor (Female) in a Supporting Role
I've mentioned about supporting roles, and I don't want to do more so in hopes of not giving away the winner just yet (unless you already looked at the pictures). So let's discuss the Oscar nominated supporting actors (female);
Lupita Nyongo for 12 Years a Slave-Joyous occasion when she won cause it wasn't expected from the Academy, that was an emotional and awesome speech.
Jennifer Lawrence for American Hustle-People are calling her overrated, haters gonna hate. She was great but I can also say that the top two nominees on my list could have replaced her if The Academies rules weren't so skewed
Sally Hawkins for Blue Jasmine-Great performance, not as good as her turn in Happy Go Lucky but still great.
Julia Roberts for August: Osage County-A good performance, much better than Meryl Streep's (Huh! Blasphemous!). She needed to be leading, but she shouldn't have been nominated either.
June Squibb for Nebraska-Haven't watched the film yet
So back to my awards. But first;
Honorable Mentions: Scarlett Johansson (Don Jon), Brie Larson (The Spectacular Now), Pink (Thank You For Sharing), Margot Robbie (The Wolf of Wall Street), Mary Elizabeth Winstead (The Spectacular Now), Mickey Sumner (Frances Ha), Selena Gomez (Spring Breakers), Rachael McAdams (About Time), Melissa McCarthy (The Heat), Ellen Page (Touchy Feely), Rosario Dawson (Trance), Michaela Watkins (In A World...) and Kaitlyn Dever (Short Term 12)
Gemma Arteton as Clara Webb for Byzantium
Arteton is an actor who far too long has squandered her talents in visible but dismissive projects, even last year she starred in turds like Hansel and Gretel: Witch Hunters and Runner, Runner. So it's fun to see her taking on a role that lets her prove some of her acting prowess. Given a complex character; the first female vampire Clara Webb, she plays it bold, seductive, killer and above all else a protective mother with ferocity. Arteton is a glory to behold, equal parts terrifying villain and equal parts misjudged hero; she tears up the screen in a very somber film and gives it the zing it needs.


Carey Mulligan as Jean Berkey for Inside Llewyn Davis
While I liked her equally in Great Gatsby as Daisy, Mulligan just made Inside Llewyn Davis more funny than it should have been. With the way she delivers the insulting barbs and carrying of that snark, she makes us care for Llewyn (Oscar Issac) more than we actually should yet also expresses herself in a way such that we can designate early on Llewyn's own personal bad qualities. Mulligan is an actor in retrospect who doesn't get enough credit, she is outshone by Issac but she still holds her own to be relatively memorable.
Nicole Kidman as Evelyn Stoker for Stoker
Kidman is one of the relatively well known and popular actors of her time, but unfortunately she is also one of those who easily gets overlooked when it comes to her acting talents. Stoker is another example of some of her finest work, here she plays a negligent mother whose Husband dies while his mysterious brother joins them at the house. She thinks she's playing a simple game, starting an affair with Charlie (Matthew Goode) but it becomes something much more sinister. Kidman aptly acknowledges this with her sensuality and striking body language, she spouts her venomous dialogues with intensity as well as evoking hints of motherly love in her confrontations with India (Mia Wasikowska) that provide a well rounded character.
Lili Taylor as Carolyn Perron for The Conjuring
Taylor's Carolyn develops fluidly through the film, at first her character is the protective and worried mother and Taylor fits that mold naturally without hesitation. Being slowly possessed you see subtle changes of worry, especially once she finds out that she is possessed in Taylor's expressions. Then comes the blow out, once fully taken out by the spirit, Taylor is a force of nature brilliantly bringing out the demon within her. Trashing and screaming like it's no tomorrow, Taylor brilliantly balances the line between an outward monster and an inward mother.
Gaby Hoffman as Crystal Fairy for Crystal Fairy and The Magic Cactus
First of all I would like to point out, The Independent Spirit Awards Nominated Gaby Hoffman in the leading category, while she is the titular character of the film. To me it felt like she was supporting with a major arc (supporting characters can have major development if need be) that was eventually meant to cause change to the way leading man Jamie (Michael Cera) saw things. Hoffman is simply amazing, she plays the carefree and goofy attitude of Fairy's with utter brilliance, but begins to peel the layers of her character with great detail. Jamie's indifference and insults continue to affect her and it shows with the way Hoffman naturally shifts every facet of her physical being. Eventually the final emotional and harrowing secret that Fairy carries resonates for the viewer as for Jamie, Hoffman delivers with determined conviction and poignant strength. Hoffman gives the weight to a character that we slowly come to cherish and know.
Winona Ryder as Deborah Kuklinski for The Iceman
Much of the family portions can really bog the viewer down in The Iceman, so it's up to not only lead Michael Shannon but his counterpart Winona Ryder to really make you care for the films central character conflicts. Ryder who has been on a small career revival, has seemingly taken up meatier roles and made them her own. Deborah is no different, here she adds much of the genuine heart that makes you understand the difference between Richard (Michael Shannon) the killer and Richard the family man. Her body language is upright and it conveys her standing as a doting wife yet one whose neither afraid of confronting her husband when need be. Ryder specifically brings the whole package to the role, making it more than it should be and making it better for it.
Octavia Spencer as Wanda Johnson for Fruitvale Station
When the scope for the leading man is really high, it's hard to have small supporting players make an impact. Thank god then for Fruitvale that they had the undeniably magnificent presence of Octavia Spencer, the Academy Award winner brings much resonance to the film with her emotionally heart breaking delivery. All you need to do to be convinced of Spencer's prowess is to see the final scene, as Oscar (Michael B Jordan) lays dying, she reiterates the words 'I told him to take the train' that indirectly brought Oscar closer to his death. Spencer in just those final few moments expresses a wide range from her misplaced guilt and sadness, not to mention the brave face she put on when Oscar was being operated. Spencer is a damn great thespian who adds a lot to make Fruitval Station matter and deliver its message.
Scarlett Johansson as Samantha for Her
More so than Joquain Phoenix, it was Johansson who was overlooked especially by the Academy in last year's quirky romantic tale Her. It's not easy giving life to a character that is only a voice no matter how mesmerizing the said voice may be, but Johansson builds from the ideas of the script and makes Samantha well rounded, complex, hate able and lovable at the same time. In a way she is Theodore's (Phoenix) beating heart and the heart of the film, it's mostly up to her to make this odd love story feel compelling enough for the viewer to follow through with the film and be heart broken by at the end. Scarlett does so with great intent and provides with some intriguing chemistry between her and Phoenix. Her is one of the best movies of 2013, and Scarlett it's greatest asset as a performer.
Melissa Leo as Holly Jones for Prisoners
From the first time you see her on screen, you know there is something vehemently sinister about Holly Jones, that is all thanks to the aura Mellisa Leo's performance captures and creates around the viewer. Slowly but surely with each small development Leo exudes evil until the final reveal where the character reasoning doesn't matter in front of Leo's outright viciousness and calculations. Kudos to her also for making you reflect upon Dover's (Hugh Jackman's) own despicable actions while she takes him and his daughter out in the most despicable manner.
Kristin Scott Thomas as Crystal for Only God Forgives
Cold, calculated and chilling is what would describe Crystal from OGF, yet it's all because she seeks vengeance for her eldest son. Beyond the fact that Thomas delivers her barbs with hilarity and venom to her youngest Julian (Ryan Gosling), Thomas adds a lot of skewed pathos to the film with her unhinged yet restrained turn to find and punish her son's killers. She was touted as an awards favorite before Only got a volatile reception at its festival screenings. Still whether you hate the film or like it, there's no denying that Thomas holds the fort with a scintillating turn.
Another really tough category, but the Winner is...
Scarlett Johansson as Samantha for Her!
Underdog Award for Best Actor (Male) in a Supporting Role
Like with the female category I would like to first look at the Oscar nominated candidates for this award;
Jared Leto for Dallas Buyers Club-The obvious winner amongst the competition in his category, although Fassbender would be a very close second.
Michael Fassbender for 12 Year A Slave-Vicious and cold blooded, Fassbender makes you really hate his character thanks to how he performs him. He didn't campaign as much or he could have also easily won. Much deserved nomination
Barkhad Abdi for Captain Phillips-For a first time actor this performance was simply mind blowing.
Jonah Hill for The Wolf of Wall Street-While hilarious most people seem to think that just because this is a Scorsese film Hill did something different from usual when he actually did not. Unlike Money Ball where Hill went out of his comfort zone, here he plays to type as a comedian. Undeserved nomination, still it will make for a funny joke in future Jonah Hill films. Just Imagine the promotion trailer for a 22 Jump Street with the voice over; starring Channing Tatum and 2 time Academy Award Nominee Jonah Hill!
Bradley Cooper for American Hustle-While a good performance it was nothing brilliant considering who he surpassed for the nominations, Cooper has done better and did so in the same year with The Place Beyond The Pines. His co-star Jeremy Renner was far better.
So back to the awards, but first;
Honorable Mentions: Mark Strong (Welcome to the Punch), Bradley Cooper (The Place Beyond The Pines), Dwayne Johnson (Pain and Gain), William Fitchner (The Lone Ranger), Nick Frost (The World's End), Vincent Cassel (Trance), Idris Elba (Pacific Rim), Johnny Depp (The Lone Ranger), Paul Dano (Prisoners), Casey Affleck (Out of the Furnace), Fran Kranz (Much Ado About Nothing), Nathan Fillion (Much Ado About Nothing), Jeremy Renner (American Hustle), Bill Nighy (About Time), Emile Hirsch (Prince Avalanche), Eddie Marsan (Filth and The World's End), Keith Stanfield (Short Term 12), John Gallagher Jr. (Short Term 12), Vithaya Pansringram (Only God Forgives) and Woody Harrelson (Out of the Furnace)
And the Nominees are...
John Pais as Paul for Touchy Feely
Touchy Feely is basically the Lone Ranger of indie films from last year, of course commercially overlooked yet also sadly critically bashed. It's the performances that make this film, specifically John Pais's turn as a loner, judging and introvert dentist who refuses to think highly of himself when his clinic begins to pick up business. Pais delivers with mumbling hesitance giving us a very oddball and somewhat funny character whose dull life begets a dull yet also intriguing journey. His chemistry with all three ladies from lead Rosemarie Dewiit to his daughter in Ellen Page and Allison Jayney is hilarious thanks to the way Pas carries himself and converses with them. Under appreciated, Pais deserved this mention.
Ben Foster as Patrick Wheeler for Ain't Them Bodies Saints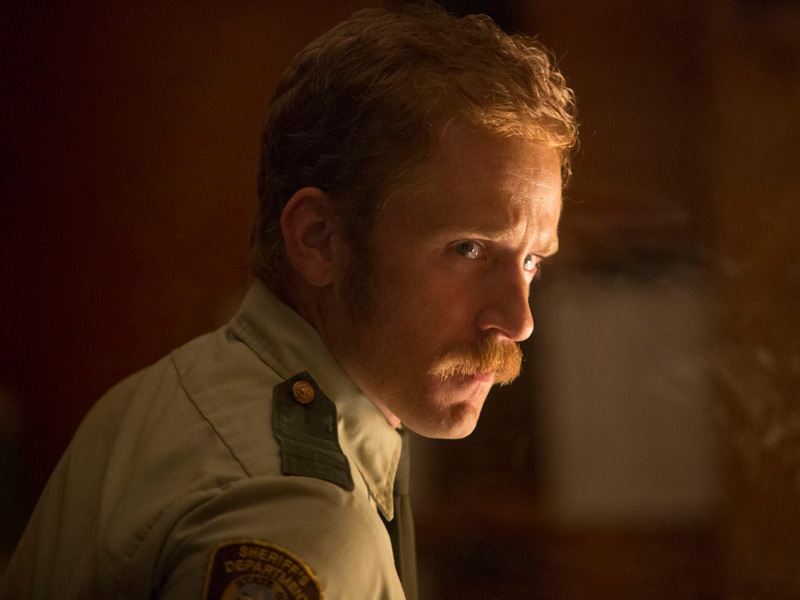 Foster is the kind of actor you can place by face but not by name, and that's a really sad thing considering how easily he can steal the show in any sort of role. From 3:1 to Yuma to The Punisher, Ben Foster has been making a name for himself as a master class performer in supporting roles. It's no different here, where thanks to his performance Patrick becomes the surprising ticking heart of the film when considering there's a larger romantic narrative playing out between the leads. His smoothly expressions and specifically his communicative eyes build a very endearing and caring character who makes the audience hope he gets his happy ending with Ruth (Rooney Mara) sometimes even over Bob (Casey Affleck) and Ruth's own journey. This towards its somber climax also causes Patrick to tether towards heartbreak and Ben conveys that in stellar fashion.
Danny McBride as Danny McBride for This is The End
McBride as McBride is just so god damn hilarious! He's a force to be reckoned with at least in the film, playing it up to the max with the image he has supposedly formed among comedy films fans. To just not how awesome he was, he makes two awesome entries in the film. Most of the funniest moments revolve around McBride from the jizz-off to the Hermione gag, the Tatyum reveal and everything else all him and his effective comic timing and delivery. McBride towers over the film as it's actual villain and funny man.
James Gandolfini as Albert for Enough Said
First of all let me just say beyond roles in films like Killing Them Softly and In The Loop, I can't remember watching Gandolfini that much except in of course The Sopranos as Tony Soprano. So it was genuinely and weirdly great to see him in a role very much likable even with Eva (Julia Louis Dreyfus) as our POV. Gandolfini imbues Albert with a lot of heart, charm and above else fun that he essentially brings the comedy to the romantic in this feature. He embodies the character both of course physically as well as soulfully giving off one of the better and enjoyable performances of the year. RIP James Gandolfini.
Jake Gylenhall as Detective David Loki for Prisoners
Playing a character with the most awesome last name, Gylenhall makes a showing in Prisoners. He's another actor whose recognizable by face more than name, and it's a sad fact because he has given terrific performance after performance in most of his films. Once again Prisoners Gylenhall takes a character and runs with it, deftly crafting a stirring portrayal of a man desperate to crack this case. It's a tour de performance in a film chock full of them.
Sam Rockwell as Owen for The Way Way Back
Have I already mentioned how superb Sam Rockwell is? Well the vastly under appreciated actor proves that again with a hilarious run in The Way Way Back, his Own befriends loner Duncan (Liam James) and Rockwell from there creates a sparkling chemistry with the young actor. His comic timing as usual is simply perfect and his goofball attitude is masked by a slight melancholy that Rockwell brings out without overshadowing the main narrative. As with any film Sam Rockwell in this one is a show stealer and helps make the typical coming of age story feel fresh and enjoyable.
James Franco as Alien for Spring Breakers From a physical to a method standpoint, Franco makes such a transformation that he transcends Harmony Korine's feature into something a little bit more. His animated expressions, quirky delivery make a stellar performance. In many a slower scene (and their still stylized and fast) he brings out more to the character than we can see, Alien's scene with the girls and the gun (you'll know which one if you've watched the film) is so effective thanks to the way Franco performs it. It's only one of the few scenes that adds layers and definition to a wholly cartoonish character, making it seem that Alien isn't as good at what he does as he thinks and is way in over his head. He basically the hunter who gets hunted, the smiling poetic manipulator who get manipulated and brought down in this frenzied film.
Sadly his co-stars specifically Ashley Benson and Selena Gomez will be overlooked because of how brilliant he is.
Ryan Gosling as Luke Glanton for The Place Beyond The Pines
It came as a surprise to many when Gosling's Luke died very early on, but it came as no surprise that Gosling's Luke was memorable once the films finished. This is thanks in large part to his performance, a versatile actor Gosling goes for broke thanks to his collaboration with Derek Cianfrance just like in Blue Valentine. It's emotionally restrained yet also like a raging wave, he explodes with expressions from tears at his sons baptism to his deep regret and nervousness when he's finally confronted and trapped by Avery (Bradley Cooper). For me, it's just another great showing worth watching from one of my current favorite actors today.
Matthew McCounaughey as Mud for Mud
The so called McConaissance is so damn great, that in one moment Matthew McCounaughey can be an Academy Award Winner and in the next be vastly under appreciated in the same year. His stirring portrayal of Mud brings out shades of McCounaughey like never before seen, and mirrors the acting style not to mention career trajectory of Paul Newman. From Lincoln Lawyer to True Detective, McCounaughey has been on a role and each performance singularly can make a case for a nomination this is much more truer in the case of Mud. Personally my favorite performance of his, in his current career resurgence.
Matthew Goode as Charlie Stoker for Stoker
As soon as Charlie Stoker pops up on screen, you know there is something wrong. This is all thanks to the vibe Goode creates in that one moment and through the entire feature, utilizing his classic good looks he captures you like he does Evelyn and you could even say India and then goes onto show a side of his that is frightening as it is mesmerizing. Goode goes deep and deep simply reveling in and revealing this character, thanks to the final twist he is able to pull of the mask of evil and be endearing and oddly hilarious yet pitiable. It's a performance of the ages because Goode is that good.
And the Winner is...
James Franco as Alien for Spring Breakers!
I kind of feel bad that the two winners are actors people already know, but I guess it's okay to call them under appreciated since they can be overlooked due to their popularity whenever they actually give mind blowing performances. Just had to put that out there.
Next: The Underdog awards continue in the acting categories for Leading Male and Female but also a special mention for the best all round actor this year in multiple films.
'Nuff Said
Aneesh Raikundalia