The Underdog Awards
Finally we come to this years most exciting awards; for Performances!
This category will be divided into three; special, supporting and leading.
This post is for the special acting categories basically awards for Ensemble and Breakthrough.
Obviously you my dear readers (*crickets chirping*) are wondering why I am dividing these posts, well it's just that much easier and I believe or choose to believe that it can be more views on each individual post.
So onto the awards...
Underdog Award for Best Ensemble
This award is for a complete cast that bowled me over. Basically a bunch or heck even a small group of actors who performed brilliantly with hopefully not even one weak link. I tried my best to make the nominees from those films that didn't get as many individual nominations as they could have.
Honorable Mention: 'Stoker', 'Pain and Gain', 'Hunger Games: Catching Fire', '42', 'The Conjuring', 'Spring Breakers' and 'The Iceman'
Out of The Furnace
Starring: Christian Bale, Casey Affleck, Woody Harrelson, Forrest Whitaker, Zoe Saldana with Sam Shepard and Willem Dafoe
Best Performance: Woody Harrelson as Harlan DeGroat
Out of the Furnace had a very low key debut for a film that basically starred an all star cast of thespian performers from Bale to Whitaker. As usual Bale perfectly plays a brooding hero with brilliance and carries the very slow burning picture to it's conclusion in stellar fashion. He's supported by the underrated Affleck in another gem of a performance, watch him when he finally lets out at his brother and compares his aspiration to the dank life Bale and his father live. It's a raw emotional showing at best.
Then there's a host of character actors including Whitaker, Dafoe and Saldana who add to proceedings with good showings in their limited scope. But the man who captures your attention is Woody Harrelson, Zombieland showed that giving him a character with a wild side can do wonders for his performances. Here he plays his character with bone chilling menace and unexpected sense of lashing out. The first scene of the film firmly establishes him as someone not to mess with and makes Russell's character arc that much more compelling and intriguing. This is thanks in part to the freakish turn by Harrelson.
Much Ado About Nothing
Starring: Amy Acker, Alexis Denisof, Reed Diamond, Nathan Fillion, Clark Gregg, Fran Kranz, Sean Maher, Jillian Morgese, Ashley Johnson, Tom Lenk with Spencer Treat Clark and Riki Lindhome
Best Performance: Amy Acker as Beatrice
I will mention Amy Acker later in the awards...
With a plethora of old and new Whedon favorites, the cast while initially a bit stilted with their Shakesperean dialogue came onto their own and gave a terrific range of performances. Big props to Alexis Denisof, he leads the film along with Acker making a stellar romantic pair with sizzling chemistry. He also adds a touch of some particularly hilarious comedy, watch him when he shifts around the bushes eavesdropping on other characters speaking of him.
Nathan Fillion and Tom Lenk add some hilarity to the film when it threatens to dip just as Dogberry and Vergas do within the play, their style meshes well with the narrative providing a fit of laughs. A stand out applause for Fran Kranz who supremely outshines everyone during the most intense scene pitch perfectly capturing Claudio's moments of blind belief while demeaning Hero. Also Sean Maher, who rounds out the picture as the dastardly under the surface villain Don John with utter conviction.
All in all a splendid bunch of actors playing a splendid adaptation of Shakespeare's splendid work.
Last Vegas
Starring: Michael Douglas, Robert De Niro, Morgan Freeman, Kevin Kline, Mary Steenburgen, Romany Malco with Michael Ealy and Curtis '50 Cent' Jackson
Best Performance: Kevin Kline as Sam Harris
First of all let me be honest and say, that while I knew the three men on the poster...the fourth one AKA Kevin Kline, while familiar in face was not so in name. So it's fun to see the possibly underrated among this heavy weight cast give the funniest performance.
Last Vegas was simply an excuse of a movie for the viewers to see four dynamic iconic actors take center stage and shine, along with Kline each one does so in brilliant fashion. Michael Douglas takes the lead and runs with it, De Niro hasn't had a great run but here he does his typical gruff and emotional old man with some much needed flair plus in one extended gag he gets to pull off the old gangster style and then Morgan Freeman is just a gem to watch. Notable mention for Romany Malco who is typically hilarious, his turn around against 50 Cent at the end of the film was laugh out loud.
Prisoners
Starring: Hugh Jackman, Jake Gyllenhall, Viola Davis, Mario Bello, Terrence Howard with Melissa Leo and Paul Dano
Best Performance: Hugh Jackman as Keller Dover
From Jackman playing a man morally deteriorating in his hell bent search for his daughter, to Melissa Leo creeping it up in a hair raising climax and finally Gyllenhall delivering a layered performance like no other. Prisoners is filled with a memorable cast that definitely deserved singular mentions at most awards but didn't.
Prisoners essentially slipped through the radar even among the smaller award cermonies barring the festivals where it was shown. Apart from the aforementioned three actors, Dano portrays psychotic yet sweet as chilling as ever without being unhinged at all. Viola Davis gets a small bit but one where she puts her talent to use in becoming the fort for her family and husband, yet playing and equally desperate mother in an emotionally powerful scene between her and Dano. Terrence Howard is equally effective as her husband, in scenes being the one to straddle Jackman's blind fury against Dano in a convincing morally questioning manner. His expressions and delivery are what bring the heavier psychological themes to the forefront. An all in all cast of talented thespians in one of the most terrific films you will see this year.
The World's End
Starring: Simon Pegg, Nick Frost, Paddy Considine, Martin Freeman, Eddie Marsan, Rosamund Pike, David Bradley, Darren Boyd with Pierce Brosnan and Bill Nighy
Best Performance: Nick Frost as Andy Knightley and Simon Pegg as Gary King
If Edgar Wright's Cornetto Trilogy had to end with an apocalypse, than it needed to end in big fashion as the film did just that.
After 'Shaun of the Dead' and 'Hot Fuzz' we get a taste of the Pegg and Frost double team action in a switched manner as Pegg plays the man with an arrested development problem and Frost the mature one. It was fun to see, a bit depressing when you consider the depth of Pegg's character Gary's issues with growing up but still thrilling to witness this chemistry.
Add in a stellar camaraderie with some fine British talents from the ever terrific Pike, the underrated Marsan and Considine and the reliable Freeman (who is also one of the four actors to be part of each of the trilogy films, yes he was in the other two! go watch them again). Then we get two awesome cameos by Pierce Brosnan and Bill Nighy (the other man in the four, the final two of course being Frost and Pegg) as the Network.
The Way Way Back
Starring: Liam James, Steve Carell, Tomi Collete, Allison Janney, AnnaSophia Robb, Sam Rockwell, Maya Rudolph with Rob Corddry and Amanda Peet
Best Performance: Sam Rockwell as Owen
Featuring a breakthrough showing by Liam James, a non typical Carell character, AnnaSophie in a mature turn and stellar comedic showings by the likes of Allison Janney, Maya Rudolph and Rob Corddry; The Way Way Back proved to be a good film made excellent by its performances.
Not to mention my favorite actor of all time Sam Rockwell in another typical Sam Rockwell special.
Mud
Starring: Matthew McConaughey, Reese Witherspoon, Tye Sheridan, Jacob Lofland, Sam Shepard, Ray McKinnon, Sarah Paulson with Michael Shannon and Paul Sparks
Best Performance: Matthew McConaughey as Mud
The McConaissance continues!
While he may be the titular character, McConaughey plays a supporting role (which we'll talk about later) against two star making turns for young Tye Sheridan and Jacob Lofland. Add in some really under appreciated actors from Shepard to Paulson and Shannon to Sparks, and you have the recipe for a terrific film. Then there's Witherspoon who gives a good performance in years.
The Place Beyond The Pines
Starring: Ryan Gosling, Bradley Cooper, Eva Mendes, Ray Liotta, Ben Mendelsohn, Rose Byrne, Bruce Greenwood with Dane DeHaan and Emory Cohen
Best Performance: Ryan Gosling as Luke Glanton
While Place wasn't what it was promoted to be (a chase film ala Heat with Cooper and Gosling). What it was, was an ambitious effort exploring themes of fatherhood and fate divided into three stories over the years. It was hard to decide who the main actor was, promoted as a Gosling film he shockingly dies by the first act giving a stirring performance till then. Cooper takes over the film then with what is his best showing to date. Finally the film ends up with who I believe is the real lead; Dane DeHaan in another breath taking performance just after his dynamic breakthrough year.
It took me awhile and three viewings to get used to Emory Cohen's subtle performance as well, he backs the latter half of the story brilliantly and makes you hate him (which I should have noticed was his purpose from the start) while also in his own way becoming a tragic figure. Then you have the likes of Greenwood, Liotta, Mendes and Mendelsohn in small but effective roles.
This is The End
Starring: Jay Baruchel, Seth Rogen, Jonah Hill, James Franco, Craig Robinson with Danny McBride and a Host of cameos including The Backstreet Boys
Best Performance: Danny McBride as Danny McBride
This is The End was just a showcase for the funny men from all those Judd Apatow and company movies with (now) 2 Time Oscar Nominee Jonah Hill! 2 Time!
First the standouts among the cameos. Kevin Hart for being all shrieking Kevin Hart, Emma Watson for fucking up the Franco household, Paul Rudd as the screaming maniac, Channing Tatum or is it TatYum as the Gimp and most importantly Micheal Freaking Cera!
While everyone was playing an exaggerated version of their star self and Seth Rogen was playing Seth Rogen, Michael Cera did a u-turn from his dorky good guy persona in all his movies and gave a spotlight stealing showing as just a big fat asshole.
Then there's the main cast, improving their way through everything. Jonah Hill just being the epitome of snob, James Franco purposely coming out of the closet in some subtle sequences and shining roles for Robinson and Baruchel. But towering above them the villain of the piece; Danny McBride, show stealing his way into the picture with hilarious gags left right and center. Funniest performers in the funniest film of the year!
Thanks For Sharing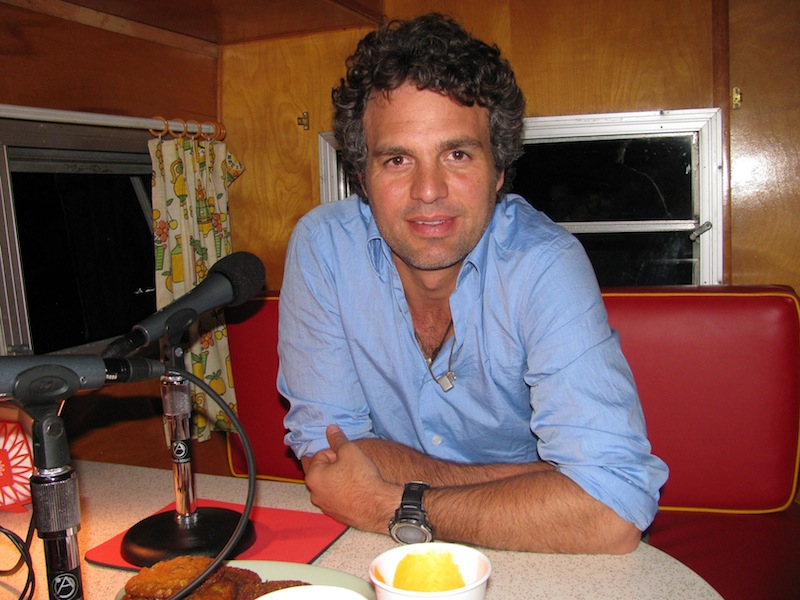 Starring: Mark Ruffalo, Josh Gad, Tim Robbins, Gwyneth Paltrow with Patrick Fugit and Pink
Best Performance: Josh Gad as Neil
With a terrific set of actors as Ruffalo, Robbins and Paltrow, it was a shock to see that the best came from the likes of Gad, Fugit and Pink. Where Gad had a breakthrough year, his performance here takes the shine adding comedy when the drama gets a bit too much and in a way being the successful hero of the film with a compelling arc. Patrick Fugit was a surprise to see, I haven't watched any of his films since Almost Famous and he was better than ever. Finally Pink giving a terrific showing with some great comic timing and chemistry with Gad's Neil.
Of course that's not to say the others were bad, Robbins, Ruffalo and Paltrow were all great especially Ruffalo towards the end with a dark turn in development. But compared to their youngsters, they surprisingly just didn't match up. Still they were great as well.
And the Winner is...
Prisoners!
Underdog Award for Best Breakthrough Performer
Every there's certain actors who have either been toiling away on TV, playing small bits in big films or making small waves in Indie cinema that just bowl you over with their performances and knock on the doors of A-List production houses for meaty roles in meaty films. This year featured a ton of young actors making the big leap and giving some of the best and sadly most overlooked performances among the Awards season, Here's to them.
Honorable Mentions: Jean Malone (The Hunger Games: Catching Fire), Sam Claflin (The Hunger Games: Catching Fire), Megan Charpentier and Isabelle Nelisse (Mama), Michael Zegen (Frances Ha), Josh Gad (Frozen, Jobs, Thanks for Sharing), Melonie Diaz (Fruitvale Station), Rinko Kikuchi (Pacific Rim) and Emory Cohen (The Place Beyond The Pines)
And the Nominees are...
Margot Robbie as Naomi Lapaglia for The Wolf of Wall Street
If there was one person who really stepped up and matched Leonardo DiCaprio beat for beat in The Wolf of Wall Street it was none other than Robbie. She is one of the few female actors that I can remember making a serious impact in a Martin Scorsese film and that to this extent, obviously she plays to type (if she has one) as a gorgeous former model and wife to Belfort. Yet she also presents the facets of snark and drama from the character equally well, proving to be more than just a face. Plus while being Australian she nails that New York accent well.
Nick Robinson, Gabriel Basso and Moises Arias as Joe Toy, Patrick Keenan and Biaggio for The Kings of Summer
Obviously with three terrific talented young actors it was hard to choose, where Robinson led the pack with a great dramatic showing, Basso made Patrick much more endearing than he should have been (considering we see this film from Joe's angle) and then there was Arias who was just so freaking funny. The trio made a somewhat typical film, and enjoyable one and a half hour romp.
Liam James as Duncan for The Way Way Back
You need to just see the whole breakdown scenes that Duncan goes through towards the climax of the film, and you will know that Liam James is another stellar find. He plays to the silent lonely type with ease in this coming of age tale. He also does well when matched up with the effectively awesome Sam Rockwell.
*Don't be alarmed when you see dynamic adjectives to describe how typically terrific Sam Rockwell is, cause I love that dude*
Domnhall Gleeson as Tim for About Time
Gleeson was easily one of the most likable leading mans this year, with a heart warming and lovable turn as Tim in this sort of great and sort of underwhelming romantic comedy with a sci-fi touch. His role demanded a nifty bit much from him and he delivers in spades, creating some electric chemistry with both Rachael McAdams and Billy Nighy. Director Richard Curtis can rejoice, he may just have found his next Hugh Grant, except one with a different touch.
Tye Sheridan and Jacob Lofland as Ellis and Neckbone for Mud
While Tye Sheridan was the leading boy, it was the two young actors together that proved to be better for the film. Sheridan played the confused and boy with still a hint of childlike sense (regarding relationships at least) in Mud, playing out the compelling dramatic arc in unbelievable fashion. On the other side was Lofland, who brought much needed levity with his quick witted timing and delivery, not to mention fun chemistry with both McConaughey and Michael Shannon.
Brie Larson as Grace, Cassidy and Monica for Short Term 12, The Spectacular Now and Don Jon
I'll speak about Short Term 12 later as Larson was so damn terrific in that, she feature elsewhere on the acting nominations. While she is a fairly known face with her showings in Scott Pilgrim vs. The World and 21 Jump Street, Larson showed all knew dimensions in the past year.
She was absolutely charming and somewhat hateful in The Spectacular Now as Sutter's (Miles Teller) ex-girlfriend while in Don Jon with just a few lines of dialogue she clearly steals the show, as her character iterates the films most important lesson for the protagonist.
But nothing beats Larson like Larson in Short Term 12. An actor who is a force to be reckoned with in the coming years.
Keith Stanfield as Marcus in Short Term 12
I think I mentioned it before somewhere in the awards, but all you need to see of Keith Stanfield to be convinced of his nomination is his rap song divulging into the reason behind his issues with his mother. The way Stanfield delivers those lines speaks volumes like no other flashback, back-story or amount of dialogue can. It takes a truly gifted actor to convey a message in such unorthodox style, and Stanfield pulls it off. A relative unknown, coming in and doing something natural with powerful conviction.
Chadwick Boseman as Jackie Robinson for 42
In his best performance in years, Harrison Ford had the show stolen from him by Chadwick Boseman in his first major leading role. Boseman fit baseball player Jackie Robinson like a glove and maximized his talents in playing the first black man to play professional baseball in the history of America.
Each and every emotion and each and every moment, Boseman rises to the occasion. Specially watch him when he runs to the dugout and smashes his bat after some derogatory remarks thrown at him, Boseman channels some realistic fury with his perfect body language and expressions.
Miles Teller as Sutter Keely for The Spectacular Now
I wont talk much about Miles Teller since he's also nominated somewhere else and more important (yes he's that good here). So just seep in the nomination
Michael B Jordan as Oscar Grant III for Fruitvale Station
Like with his Fantastic Four co-star Miles Teller, Jordan features elsewhere on the nominations so you know he is excellent.
I will say this, being brutally honest I wasn't sure if I wanted Jordan to play the ordinarily white Human Torch in The Fantastic Four. It's not a race thing (at least I hope not) but a comic book fan thing where I didn't want any changes to my favorite characters. Blind I know. I remembered his stellar performances in Friday Night Lights, The Wire and Chronicle but maybe I needed a refresher and it came in the form of Fruitvale.
As a leading man Jordan won me over, and I was ashamed for having written him off. I still consider this stunt casting from Fox Studios for FF, but even if it is I promise you it will be a genius move. Michael B Jordan convinced me enough that I think he'd be fit to play any of the male leads of the Fantastic Four not just Johnny Storm.
Another tough one, but by a slight margin...
Brie Larson for Short Term 12, The Spectacular Now and Don Jon!
Next: A little while later onto the next set of acting awards, the supporting players, Underdog Award for Best supporting actor male and female
'Nuff Said
Aneesh Raikundalia