Rorschach Reviews
X-Men: Days of Future Past


With the movie already released, it's time to look at one of the most iconic comics that the film is partially based on.
Days of Future Past is considered one of the greatest achievements in comics history and is my personal favorite X-Comic thanks to its time travel premise and one of my favorite X-Men being front and center of it; Kitty Pryde.
Contrary to what the movie would have you know, this two part story saw Kitty Pryde sent back in the past from 2013 to her own younger body to save the X-Men, Mutant kind and the present and the future.
Like with the released film it involves the team of X-Men stopping an assassination carried out by Mystique and by doing so abolishing the rising Sentinel program.

She is hell bent alongside her Brotherhood, on assassinating Senator Kelly, who wishes to up the ante on the Sentinel Program that has been dormant for a while.
However the collection doesn't only feature the two part story. It is in fact more of a conclusion to John Byrne's acclaimed work alongside Chris Claremont.
As I've detailed before, Claremont came into the book after it was revived thank to Giant Size X-Men (review here). He and Byrne worked together extensively on the Dark Phoenix Saga that featured the debut of Kitty Pryde.
Ironically while this is the end of their run together (the best era of Claremont's lengthy work on the X-Men), it is a new beginning. Post the Giant Size issue, a new team took the original X-Men place but amongst them original member Cyclops remained. Here with Phoenix/Jean's death he leaves and Kitty enters.
*Although yes Angel returns, he isn't as characterized as his team mates; the new X-Men*
Kitty comes to the team in a way that mirrors Jean's arrival to the mansion years ago during the first issue of X-Men, when the other four originals (Cyclops, Angel, Iceman, Beast) had been already established.
The paperback isn't lengthy though, it runs from issue 138-143 and features X-Men Annual 4 as well.
So let's head on to the review.
The beginning of this book as mentioned is an epilogue to The Dark Phoenix Saga and a movement towards new beginnings for the X-Men. If you're a casual reader, the book is a great pick up because in the issue titled 'Elegy', the X-Men stand at Jean's funeral and Scott reminisces with detail about their past adventures that led them to this place.
It's an issue that lets writer Claremont to revel in his area of expertise; lots and lots of dialogue, mostly exposition. It's a fun history albeit for a regular reader, basically meaningless. The issue is that with Scott iterating the story, you should be able to feel his pain. It's a difficult task for a writer to capture that voice on paper but Claremont is known to do it well, yet here the amount of dialogue overpowers what Scott feels.
At the end it feels like just a catch up issue which is sad, considering Marvel and Claremont should have used this issue to force catching up readers hands to pick up the epic Dark Phoenix Saga (which I suggest you do).
The end however is very touching when Claremont fully grasps Scott's pain and his embarrassment at facing Jean's parents. Not only does Xavier express how proud he is off Scott, but Scott himself notes that he cannot becomes his reserved self but owes it to Jean to live fully.
You'd think the meat and potatoes would then begin, but sadly Marvel's schedule moved towards a X-Men annual.
The fun thing is; it features Dr. Strange. The annoying thing; it's an aspect of Nightcrawler's story I could care less for, considering how creepy it is.
One of the tings I really hate that you notice outside the first exposition necessary issue, is that Claremont's style of dialogue just doesn't work anymore. He tends to explain the actions on page, it's a habit that was prevalent during the early rise of super hero comics.
This is something that will definitely feel outdated and annoying for inexperienced readers, and gives the sense that writers either didn't follow the action well enough or didn't trust the artist to convey the message across.
I never really liked any issue where the X-Men took on mystical ideas, it just doesn't fit unless the mutant in question is Magik. Then that creepy ending, the woman who took Nighcrawler to the other realm is revealed to be his long lost step sister who had been posing as his girlfriend for years. That is just weird on a whole other level.
Although the last bit where Wolverine acknowledges Kitty is fun, knowing their now mentor/student bond.
The iconic cover has been parodied multiple times and the dialogue has become a statement heard by every new mutant that joins the X-Men
The next issue, issue 139 is the real start of the book and kind of encapsulates the idea of the whole trade; its lead protagonist is Kitty. There's a reason I really love Claremont's run, he gives each character space to grow yet for a reader focuses in on one character as a lead for a short period of time. Prior to Phoenix it was Scott, during the story it transitioned from him to Jean and now Kitty.
Of course with only a handful of issues you'd expect that there wouldn't be much development for the X-Men characters let alone Kitty, considering the big two part event. Yet that's one of the great things about Claremont's style of writing, a lot of dialogue he uses establishes the world that encompasses each individual.
With Kitty, he begins to establish her personal relation to each member of the team. DOFP is the ground for exploring a lot of Kitty and Wolverine's relation and builds a base that later comics would explore about Wolverine playing mentor to her. It's something that would go on to define his character as well, when he would train Rogue, Jubilee and more.
With Nightcrawler, you get to see Kitty's apprehensive behavior towards the blue mutant. His appearance of course being the issue, it's a way for the young mutant to learn Xavier's motives. Kitty has to accept not only herself but her fellow mutants to understand the idea of peaceful cohabitance between Mutants and Humans.
With Storm, you get to also once again see Storm in a new light. This is a character who realizes her responsibilities as an X-Men leader and is burdened with all the identities she has had in her life but most of all the one she hasn't. Storm never really felt her childhood and she vows to protect Kitty's amidst the weird adventures they have.
Kitty Pryde and Peter Rasputin would have an X-Romance that would last for years. It ended last year.
Finally the seeds are also sown for Kitty's admiration and infatuation with Peter Rasputin, which would eventually blossom into a romance between Kitty and Colossus.
Yet Claremont as mentioned never forgets this is a team book. If you want to know why fans get pissed when the movies are all about Wolverine, then this book and run is a prime example of that. Even amidst his own story (below), there is profound development for a multitude of characters including not just the X-Men but his former team mates Alpha Flight.
The next two issues are a Wolverine centric story, and develop from Claremont's previous stories which saw Wolverine take on his former Canadian team mates of Alpha Flight.

The issues here are much better than before, because Claremont tries and succeeds in humanizing this one note beast we've seen.
Behind the cowl faced feisty mutant is a heart, a code and above all else history, something that goes on to become a theme for Wolverine. It also adds more dimensions to his and Nightcrawler's relationship.
Wolverine and Nightcrawler share a deep friendship, that shows how well Claremont writes team dynamics
The next two issues are basically what you buy the book for; the iconic Days of Future Past story and my favorite X-Men story ever.
Both issues have some of the most iconic covers in comic history, the first depicts the oft parodied poster cover that tells you the extent to which the future is bleak. The second depicts Wolverine being blitz to shreds by a Sentinel.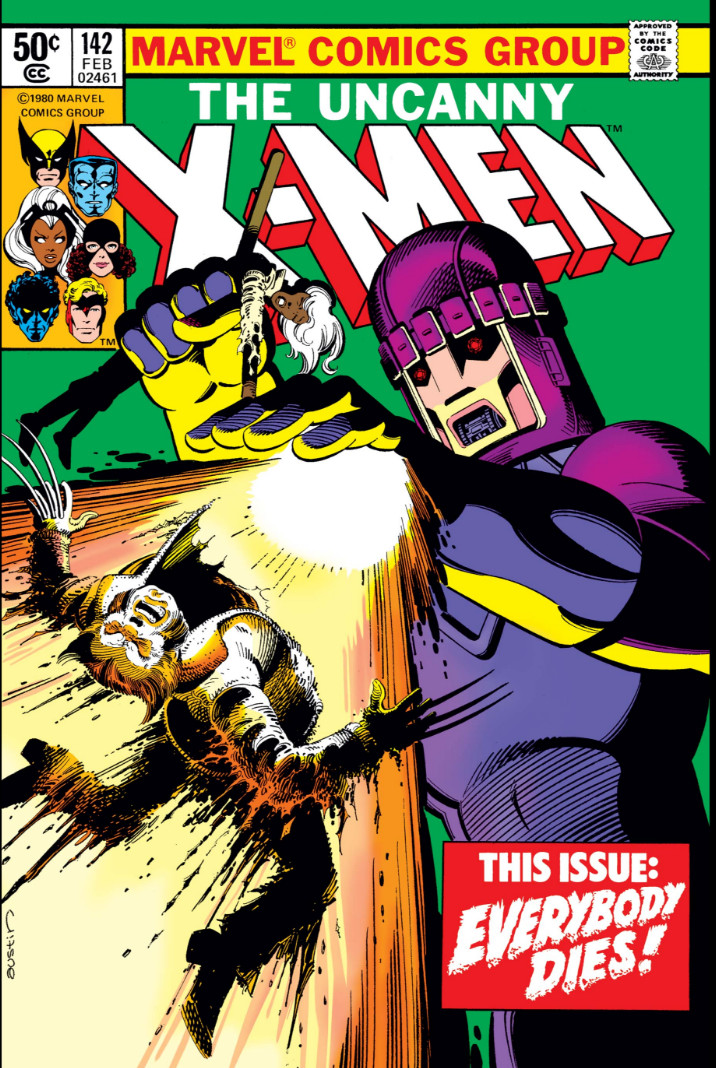 The legendary John Byrne Days of Future Past Covers for issue 141 and 142
The story itself begins in the then future 2013, where the Sentinels rule and have a divided class of humanity and mutanity. All that doesn't matter, since everyone in the USA is in an apocalyptic nightmare of a world and the Sentinels prepare to strike against the world now. This prompts the remaining X-Men (Wolverine, Colossus, Storm, Kate Pryde) along with Magneto, Frankiln Richards (son of Mr. Fantastic and Invisible Woman) and Rachael Grey to devise a plan, using Rachael's control of the astral plane they will send Kate's conscious into her younger body in 1980.
Here she will be tasked to convince the X-Men to stop Mystique and her brotherhood from assassinating Presidential candidate Robert Kelly and mutant experts Charles Xavier (their Professor) and Moira McTaggert.
What's really great about this issue once again, is that at its core it gets to the theme that defines the X-Men and their plight. The rise of the Sentinel and even their machinations with the timeline here show you, that humanities bigotry against mutants wont really stop by one simple act of kindness that Kitty does by saving Kelly.
In a way it highlights how flawed and unchanged Xavier's dream will remain, but does so such that his X-Men come off better heroes for fighting for something and someone who will never understand them and their kind. It makes the X-Men that much more iconic in the readers eyes, knowing that these are heroes constantly striving to do better for a world that hates them unlike other super heroes.
Claremont balances things really good. Not just the two timelines but multiple characters. He places Kitty once again as the POV character, here we see a bubbly young girl and the broken woman she would become. It's poignant and disheartening, especially when she says her goodbye to Colossus in the future knowing that her actions in the past might alter their relationship.
An opening scene establishes how grim the future is. One such powerful moment is when Kitty walks across the Mutant concentration camp and witnesses the long line of graves of her fallen comrades.
Claremont is untouchable in setting such scenes of evocative drama, these powerful moments are never short in the story.
Take for example the above striking panel depicting Wolverine's death and his teammates falling in the future, it is preceded by panels which highlight Wolverine's strength, limits and his bestial nature in the 1980 timeline. He then rushes onto a sentinel which is reminiscent of an earlier panel that saw Wolverine strike down the murderous robot, here however he is burned to the bone and disintegrated.
The way Byrne scratches out the body and the colors depict bones and blood is chilling.
He also gets a lot of mileage out of the other characters, most notably past and future Storm, past and future Wolverine, future Colossus and Nightcrawler.
Past Storm struggles in the role of leader as this major mission takes it all out of her, yet she also holds her ground against Wolverine when he threatens to be like the mutant that the world sees him as. In the future, she notes how chaotic she has become like Wolverine. Such that she has lost a piece of herself as the darkness in the world threatens to suffocate her.
Colossus fears for Kitty in the past and iterates his selfishness to see them together no matter what the consequences, while he also reminisces about his past innocent and kind self being hardened by the death of his children and friends.
Wolverine grows angrier about the fight and decides to take out each and every one in a violent manner, showing that he still has a lot to learn as a team player.
While Nightcrawler's past with Mystique is hinted towards.
But still at the core this is Kitty's mission and she does save the day, but at the cost of a much darker future. I like how Claremont leaves it ambiguous on both fronts. One piece of dialogue questions whether the dark future will remain as a parallel universe or will truly be wiped out, with no panel noting what happens. Such that this question remains unanswered unless you read further X-Men books.
The second is the final page that sees Kelly teaming with mutant villain Sebastian Shaw, unbeknownst to him that Shaw is one.

They decide to work with the president and his man Henry Peter Gyrich to continue the Sentinel program in secret and keep tabs on the Mutant 'situation'. It's like humanity can't even sink any lower.
With the themes, tones, situation and characters in place then Claremont has a quick pace on his hands and the action embodies this. Fights are furious and some of the best action is depicted in his run.
This is an iconic story for every which reason I have listed. Not to forget of course that it builds a mythos of X-Men and is a pre-cursor to all their time warped adventures such as Age of Apocalypse and Age of X. Basically DOFP brought the heady scientific themes that are nature for X-Men adventures, to light.
The last issue then is a breather but is also very vital to the ongoing plot that covers the trade. It's the first time an X-Men issue would have the adjective Uncanny and it is the first solo Kitty Pryde adventure that proves she has not only the powers, but the resources to be called an X-Man.
Kitty faces a demon alone in the X-Mansion on Christmas Eve.
It's an issue that lets Byrne run wild, his final issue. It presents dazzling panels of action as Kitty takes down the monster and wrecks the mansion in the process. Dialogue is one of Claremont's key components and strengths, and it shows.
A thrilling epilogue to the writer and artists work together and a satisfactory end to the collection.
There's a reason that in his more than a decades worth of work on X-Men, his two most iconic stories are drawn by John Byrne.

Byrne along with Dave Cockrum artistically revitalized the X-Men and he carries this sincerely forward from The Dark Phoenix Saga.
He depicts the action in a fluid and discernible manner whilst capturing the pace that the narrative sets. His figure drawing of the characters is wonderful and the sketchiness of Wolverine to the clean look for Kitty differentiates the background and age of his characters. A special mention to his work on the Sentinels, making them looking emotionless yet fearsome. Terry Austin's inking compliments Byrne's work and enhances it well. The re-coloring is also great.
Comic wise overall, the book takes time to pick up but its worth the wait, for the Days of Future Past story is simply mesmerizing.
Now onto the trade itself. I have the soft cover, there's no hard cover. Though I'm not sure if it's available anymore, but there is a graphic novel special that simply collects the DOFP story and nothing else. Then there's also the phone book size Essential X-Men, where the stories are collected in black and white.
Finally a recently released Uncanny X-Men Omnibus vol.2 collects this whole trade and the Dark Phoenix Saga for your enjoyment. It is complimented by the first volume, that presents Claremont's earlier work building up to the Dark Phoenix.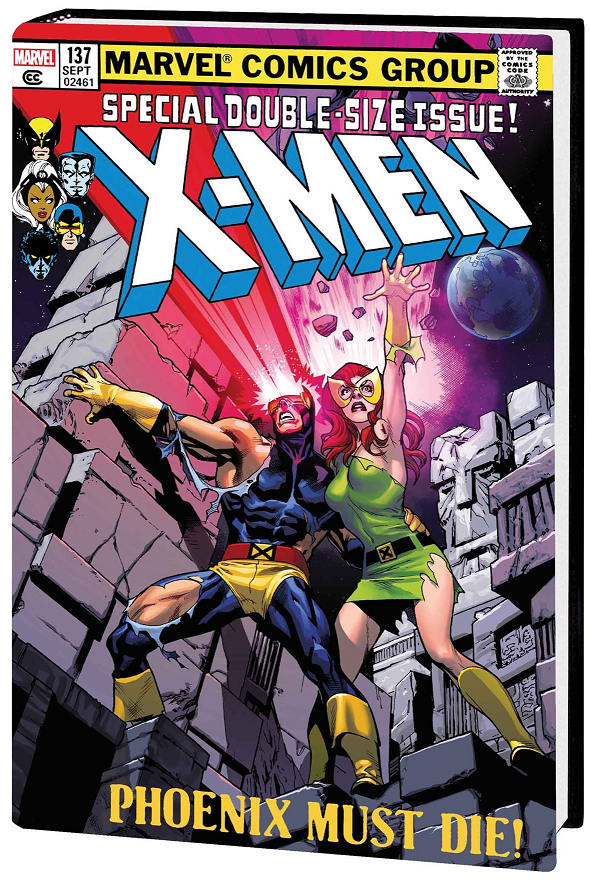 I have the Omnibus Vol.1 and Dark Phoenix Saga TPB as well as this trade. This trade itself is a bit annoying, the glue binding creates a deep gutter and a lot of panels get lost inside. This prevents you from reading as comfortable as possible and may cause some to rip pages if your not careful.
The extras in the book as with any trade are simple. It is the cover art for Classic X-Men issues that reprinted these stories earlier. It's fun to see the new style covers, but I wish there was more such as copied scripts or even Byrne's sketch book.
Overall this is a great book, even though it only picks up in its latter half. The price is 20 US Dollars, which is a tad bit expensive for just seven stories. I would say though that DOFP is worth half the price alone.
Plus the problem of Claremonts terrific writing, is that you cannot miss even filler issues because he imbues them with so much character and development that you can lose yourself with any one of these layered and deep X-Men.
If I were grading this, I would possibly give it an 8.9 with Days contributing to a lot of the score.