Magneto's Movies
Reel Reviews
Movie: Argo
Release Date: August 31 2012
Runtime: 120 minutes
Director: Ben Affleck
Cast: Ben Affleck as Tony Mendez, Bryan Cranston as Jack O'Donnell, Alan Arkin as Lester Siegel, John Goodman as John Chambers, Tate Donovan as Bob Anders, Clea DuVall as Cora Lijek, Christopher Denham as Mark Lijek, Scoot McNairy as Joe Stafford, Kerry Bishe as Kathy Stafford, Rory Cochrane as Lee Schatz, Victor Garber as Ken Taylor
Genre: Political/Non-Fiction/Thriller
Score: 8/10
Pros: -A superb number of performances from the all star cast, each actor performs his/her part as best as they can with the amount of screen time given.
-tightly scripted thriller, a mix between a thoughtful film and a great entertainment piece
-Spotless direction by Ben Affleck
-No Boston, Not just a thriller. Affleck includes touch of romantic drama and undertones of comedy (surprisingly against Hollywood)
-Thoughtful period setting and atmosphere
Cons: -Not much backstory to the characters.
-Affleck's shoehorned in plot regarding his characters marital life is unnecessary. A vehicle just to provide him a happy ending.
-Biased viewpoint on American involvement and historical innacuracy
Best Scene: The riveting climax, your heart beats fast as you witness CIA agent Tony Mendez (Ben Affleck) and the six hostages he try against all odds to board the plane and escape back home.
Best Performance: Alan Arkin as Lester Siegel/ John Goodman as John Chambers
Best Dialogue: "Argo Fuck Yourself"
Before we get down to this review, let me make it clear. I tried my best after having watched Argo in the theater last year, but I have very little insight into the political situation or incident regarding the Iranian Hostage Crisis the film is detailing. So now we can move onto a review which delves in the film and thrill aspects of this masterfully crafted piece.
Argo is a dramatic thriller based on an article ("How the CIA and Hollywood used a fake scifi movie to rescue Americans from Terhan) in Wired magazine set in 1980, it is somewhere around the time of the Cold War, but this tale is set in Iran. Due to interference by The United States in political dilemma's in Iran (detailed in the opening montage), there is rioting among the streets and a wave of threat against the USA embassy just waiting to burst open. The United States has provided asylum to an ailing Shah and former leader of Iran, his dictatorial nature has caused the public to question why USA would provide him safety. They demand for him to be brought back to his country to be tried and executed, and in order to convince the USA they take over their embassy.In the ensuing conflict six of the Americans escape and are provided safe haven in the home of The Canadian ambassador.
The Six escapees

hiding at the Canadian Ambassador's house in Argo
In come in the CIA, after having been embarrassed on their lack of intelligence regarding the takeover fiasco. They are asked to help give cover ideas so as to get into Iran and bring back the six since they are not safe for long, with the Canadian ministry wanting them to leave (considering the risks involved) and the Iran revolutionaries in search for any missing hostages (close to finding out that six are missing). Then comes in Tony Mendez (Ben Affleck), an ex-filtration expert who is to consult the US state department but makes them realize the error of their options although even he is out of ideas. In a bonding moment with his son watching Battle of The Planet of The Apes, Tony comes with the idea of a movie as a cover to extract the 6 escapees as crew members and take them home. Here he gains the help of make-up artist John Chambers (John Goodman) and producer Lester Siegel (Alan Arkin) to make the fake movie Argo in order to complete his real mission.
I don't have to sell it to you, Argo is already a two time Golden Globe winner for Best Director Ben Affleck and Best Motion picture Drama. So you know when I say this, this is one of the best and most heart pounding thriller's I have ever seen in a while. From the initial historically relevant and riveting hostile take-over to the nail biting finish, Affleck controls this film in his firm grip. It is a testament to the actors skill and will that he brings together this massive cast and moves from his Boston crime thriller comfort zone, yet manages to make his varied if not best film to date. While I still feel Gone Baby Gone is the better of his three works (more so because he allows the much more talented Casey Affleck to lead the film), Argo stands as high as both GBG and The Town. It is an oversight and purely unfair decision by the Academy (Oscars) to have not nominated him for the Best Director award.
Ben Affleck holding his best film and director BAFTA

awards
Among the performance however, Affleck is far outshone. Clearly it shows that his strongest suit isn't acting, this in turn allows much of the performers with little screen time to leave a slight impact on the viewer. Top credit goes to Scoot McNairy (Joe Stafford-The escapee who hesitates with trusting Mendez), Bryan Cranston (Jack O'Donnell-Mendez's boss), John Goodman (John Chambers) and Oscar Nominee Alan Arkin (Lester Siegel).
The six escapees are tantalizing to watch, their argument in the opening takeover scene is harrowing to watch. Their pace in the discussion regarding what to do and where to go is a mirror to the pace with which the Iranian's infiltrate the US embassy. It is striking as to how the camera fleets between the activities outside and inside and hauntingly portrays each side's feelings towards their actions no matter how justified. There are also the dramatic moments when we get to witness the six discuss their hiding methods within the Canadian Ambassadors house. Out of six, two are couples, thus there dramatic bits are slow and poignant. Once Affleck (fame Good Will Hunting) enters the fray, asking them to play act as a film crew so as to get them out, the actors get their limelight to try and shine.
Chief among these is Scoot McNairy, he portrays Joe with vigil yet uncertainty. He laments having brought his wife here and tries to reason the best and most safest thing to do. Initially distrusting of Mendez, it allows Scoot to gain ample screen-time in conflicting with Affleck's character as well as proving his worth in a thrilling but hilarious climatic scene. Apart from him there are small dramatic beats laced for Tate Donovan, Clea DuVall and Kerry Bishe while comical ones for Rory Cochrane. It's these moments with the six where the viewer will realize of the lack of character background, which doesn't help us care as much as we should when they try to escape home without getting caught.
It's one of the bigger oversights of the movie and problematic considering Mendez's own added sub-plot. Affleck spends time (not even ample enough) in providing meat to his character which is wholly unnecessary when taking into consideration the small time for his co-stars. The wasted sub-plot regarding his family life is cliche, and could have been used in fleshing those of the escapees and ambassador.
Nonetheless as said above the smaller actors are the ones that truly shine. Most of all the hilarious duo of John Goodman (fame The Big Lebowski) and Alan Arkin (fame Little Miss Sunshine). There isn't much to say about Arkin apart from the fact that he is stupendous and deserving of The Oscar Nomination. His performance is outright hilarious yet also allows moments of subtle drama. A bevy of wisecrack including a press conference scene with a reporter hassling him on the meaning of Argo, watch as he tries lying through his teeth and finally bellowing the best dialogue (see above) in utter rage.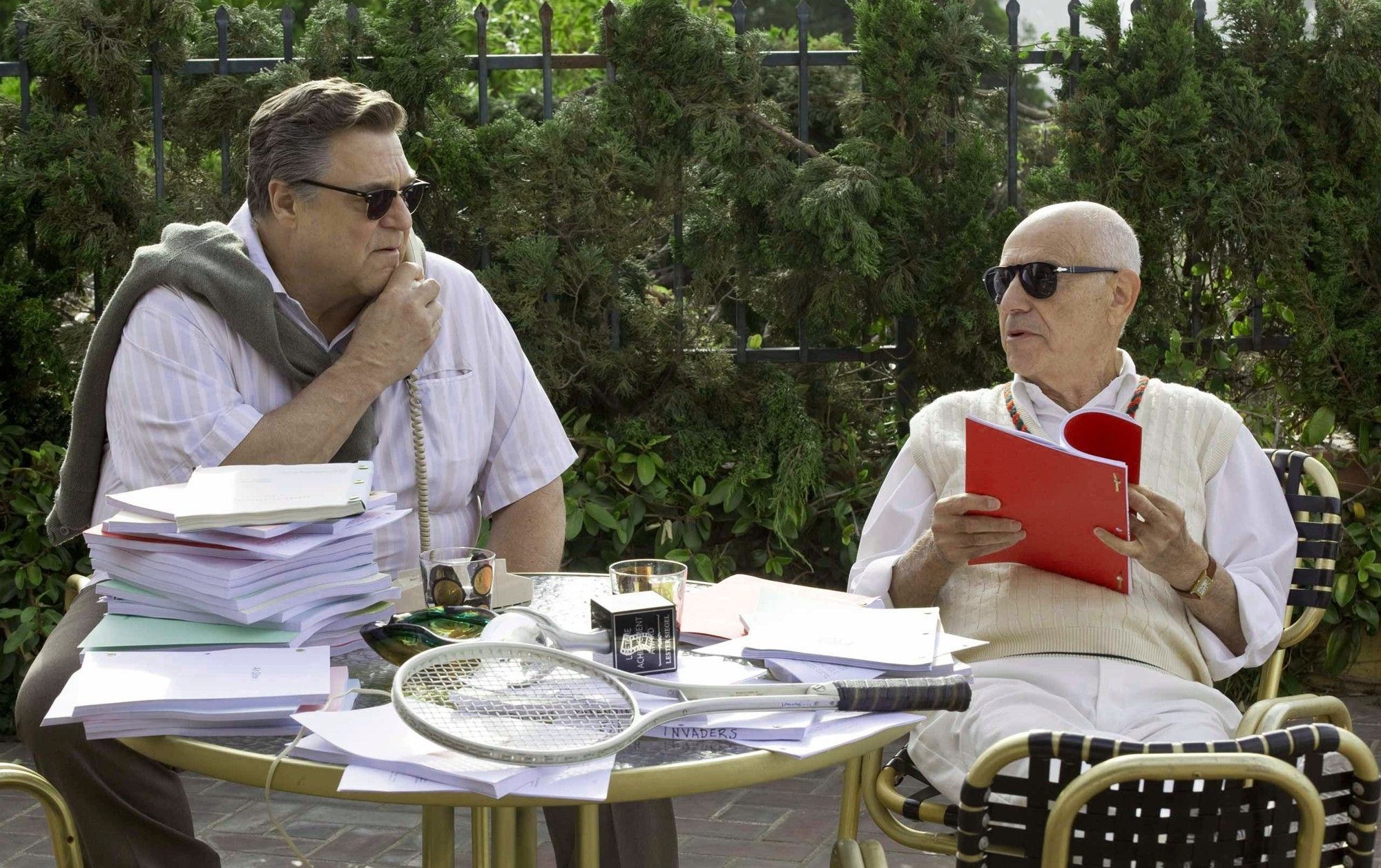 John Goodman (left) and Alan Arkin (right) discussi

ng scripts from a scene in Argo
He is aptly supported by John Goodman. On first viewing I gave in to the justified hype regarding Arkin being the only excellent part (Acting-wise) in the film but the second more concentrated viewing gave way to great work from Goodman. He plays a real character in Chambers, to be honest someone I barely know anything about. John Goodman brings wry comedy to the role including hilarious jabs at the film industry, one scene in particular to catch is his explanation to Mendez of how he could teach directing to a monkey in a day, it's a priceless reaction from Ben Affleck as he hears this Meta-reference.
One of the things that was disappointing, was the lack of screen time for Bryan Cranston (fame Breaking Bad). He is a dynamite of an actor (proven by his performance on Emmy award winning Breaking Bad) and it's disheartening to see how much more he could have done, after witnessing his third act outrage and passion when struggling to convince the State to continue the operation in order to save the six and Mendez who could get stranded and executed in Iran.
The adaptation of the setting is splendid, Affleck and co. capture the period setting easily giving the feel of the time and era in the looks of it's cast especially the six escapees with their mustaches and hairstyles. There is the vibe regarding the Cold War including an incident report on Soviet's taking Afghanistan. With a thriller a score is of vital importance, either it was me or this was truly lacking but even though wholly unnecessary. This is due to the suspense built within the narrative.
In turn the creators are smart to allow the thrills to not only over dramatize the event but prevent viewers from questioning the biased and glorified view in which American and CIA involvement is regarded in the film. There is no mention on the despair of the other hostages with the Iranians or the reason for the revolution being justified, Iran and it's people are presented in good light at the beginning but there is not much to their side of the fight. This can be charted back to the article being insufficient in providing basis for the movie as well as the thriller piece being the center and only importance in the film's narrative. Artistically this is forgivable, historically it could have different consequences but not such that it would be adverse.
With it's scintillating atmosphere, near perfect adaptation of the period setting and bevy of great performance Argo is one of the best films of the year and has gone from the dark horse to the frontrunner for the Best Picture award at this years Oscars. Affleck has crafted a thrilling movie and one that has a high re-watchable value. Make sure to check out Argo before the Oscars hit and decide if it is worth the most coveted prize in the film industry.
'Nuff Said

Aneesh Raikundalia