Predicting The Lineup
For The Ten Pictures for The Academy Award For Best Picture

After Guardians of The Galaxy (I still have to review this) stormed the Summer season, it's time to mellow down for the long haul run towards the Academy Awards as the Festival/Awards circuit season kicks off.
TIFF (Toronto International Film Festival) just ended and in its wake has left a lot of Buzz for Oscar potentials and hopefuls.
Surprisingly, one of the best things of the year is how the major awards race seems so confounding and confusing. Not only in the lesser categories but the big one itself; Best Movie.
It's a year that might not necessarily feature the big nominees/a-lister's from the past half decade. In fact the buzz seems to be pin pointed on some typical Oscar films headlines by not so typical actors and directors (Benedict Cumberbatch in The Imitation Game) against big time comebacks in weird movies (Alejandro Innaritu and Michael Keaton in Birdman).
With the Oscars still a long way down, this could be because TIFF itself has failed to feature the major heavy hitters like in the past. Last year is a prime example where TIFF premiered eventual Best Picture winner 12 Years A Slave. Before that Argo.
TIFF in its entirety has been a strong premonition of the best picture race, although this year that might not hold true, saying that.
For this post, off the films I've touted for the ten nomination slots. Each of these films have either had a wide release, a limited release, a festival release or at the least a trailer to indicate what the film promises to be. As such serious touted contenders like Inherent Vice and Into The Woods are not on here.
This means that films from TIFF are for now my major considerations for the Big One; the Big Award for Best Film.
Also I'll include what other nominations for major awards such as acting we could see from these ten films and more (including actors in other films from TIFF
Enjoy my short analysis on their chances below...
When early predictions came up at the start of this year, Fury was said to be one of those films touted for a shot at the Oscar gold. Now that to me personally came as a shock. Considering the film was being made my director David Ayer. Granted his Training Day is an epic film that won Denzel Washington a golden statuette, but with his hit and miss run since then, Ayer didn't seem like the guy to helm an Oscar hopeful.
With three trailers out, I can already see that this will be a stellar film albeit one that is a pipe dream away from a shot at the big stage. The third trailer (I suggest you don't watch it, the one above is first) in fact gives away too much of the films plot it seems.
End of Watch was one of the best cop and found footage films and was a terrific surprise from Ayer, yet Sabotage (released this year) has been declared a turd. With an uneven filmography, Ayer doesn't raise hope for his film.
On the other end, the Oscars are not always about the best of the best but the best from what the Academies favorites. As we know the Academy is a sucker for war films, though this one might be too action packed to be up their alley.
For now Fury sits beyond the list of ten for me. Still it's a film I'm looking forward too.
Chances: Best Picture (15%), Best Director-David Ayer, Best Supporting Actor-Logan Lerman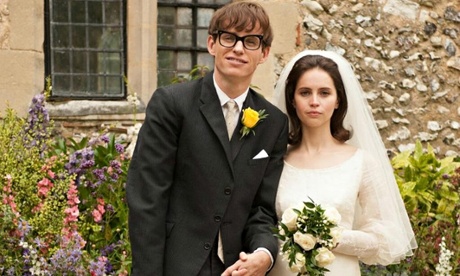 Premiering early at TIFF, Theory has picked up a lot of praise but equal flack as well. The features big hit seems to be the performance of its two leads Eddi Remayne playing Stephen Hawking and Felicity Jones as his wife.
Yet the reviews indicate that the film could be a touch too on the melodramatic side of things. For those who know it, this works in the favor of Academy voters who would definitely be moved by this aspect of Hawking's story.
Yet against that the film lacks one thing, the bio-pic aspect. Academy voters love a complete bio-pic but here the film focuses on the romantic story between Hawking and his wife, in fact according to some never really mining the depths of any of the genius man's theories or accomplishments.
Both Remayne and Jones could be said to be definite locks for a nomination bid if not the nomination itself. On the other hand, the film is on shaky ground but still a sure shot Oscar styled bet. If it can weather the storm of films releasing later this year, then it will have its moment to shine.
Chances: Best Picture (20%), Best Adapted Screenplay, Best Leading Actor-Eddie Ramayne and Felicity Jones
From the directors of last year's acting sweeping bonanza Dallas Buyers Club, comes the true and tough story of Cheryl Strayed based on her biographical book; Wild-From Lost to Found on The Pacific Crest Tail.
Jean Marc Vallee's Wild is right up there with what the Academy loves about movies; a true and dramatic real story featuring a wondrous performance from an actor they love. Reese Witherspoon is a confirmed nod for a nomination this year, with three of her films giving her the scope to go for gold. Wild looks to be the one for her, like with last year's Dallas this is good news for her considering what that film won for McConaughey and Leto.
The question though is if the film itself can carry forward on the major basis of her performance. As the festival reviews come in, there's no doubt that Wild is a great film but it solely relies on how powerful and an overshadowing presence Witherspoon is.
Dallas Buyers Club while morose and dark had some great aspects that appeal to Academy voters, yet by no means was it a excellent film that really deserved the nom (if we're being fair, the Oscars never vote in the actual films that deserve nominations). Same could be said about Wild, yet even though there isn't a strong pallete of films this year, Wild still looks like a dark horse.
Chances: Best Picture (40%), Best Director-Jean Marc Vallee, Best Adapted Screenplay, Best Leading Actor-Reese Witherspoon
Christopher Nolan's magnum opus is possibly the big blockbuster that will make it through to this years Awards season, not just the Academy Awards. Featuring past winners such as Matthew McConaughey (Dallas Buyers Club) and Anne Hathaway (Les Miserables) not to mention a woefully neglected director in Nolan himself, the film is bound to rake up majority nominations in technical categories if it's as half as good as Gravity.
The great thing it seems though, is that Interstellar looks to have a thick story backing it rather than the thematic elements sub textually introduced in Gravity. From the trailer itself the magnificence of the visuals stand out and that's a good sign.
However every director makes a bad move, to most for Nolan this is already The Dark Knight Rises but the question still remains (overrated or not) can the man live up to the expectations and create something as magnificent as Inception, Prestige and the likes.
It's an awards season release and a push for the gold, but we've seen many a big film fail at this time in it's distributors and creators blind faith and arrogance.
Chances: Best Picture (65%), Best Director-Christopher Nolan, Best Original Screenplay, Best Leading Actor-Matthew McConaughey, Best Supporting Actor-Anne Hathaway
Like with Interstellar, despite its gritty look and subject matter. I believe Gone Girl will be another big featured hit once it releases and that too before it makes a strong bid for the Oscar gold. Fincher has a sublime style and the dialogue and writing is bound to be powerful if you look through his eccentric filmography.
A lot of critics and professional sites are touting Rosamund Pike for a best actor nomination, which honestly came as a shock to me. So if she can get in, I'm sure every other big aspect can too.
I've also read the book and despite the rumors of a changed ending, from the trailers alone I can bet the film will get another screenplay nod for Finch. As aforementioned, his style alone is supremely effective and if he can churn a decent performance out of not only Pike but Affleck as well then direction is locked.
With the big ones locked, then best picture is a grasp away. Of course this all depends on what the end is and if it fits into the rest of the film that is likely to be faithful to the source. Of course the Academy never looks at faithfulness, though they do have a tendency to evade darker material. Then again to repeat myself, Finch is at a position where his subject matter hasn't effected his chances. Heck if he were to release Fight Club in this season and that too if it became a hit then it could catch nominations of its own.
Chances: Best Picture (70%), Best Director-David Fincher, Best Adapted Screenplay, Best Leading Actor-Rosamund Pike, Best Supporting Actor-Neil Patrick Harris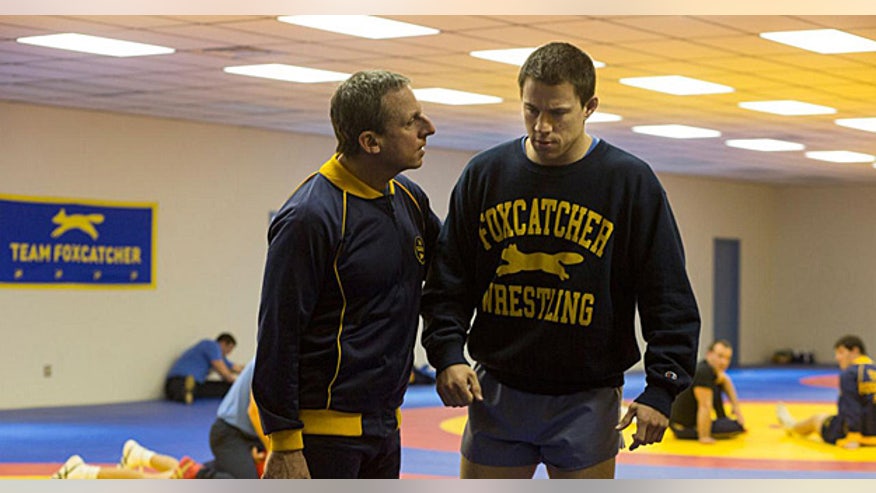 As with Dallas Buyers Club, it seems Foxcatcher is that film bound to secure itself acting nominations from the front if nothing else. The film has been hailed as a surprise success for what seems its two lead actors in Steve Carell and Channing Tatum.
Yet it's also not lost points in any other department. In fact some state that Bennet Millers directing is magnificent. It's also a real story (which need I remind you the Academy likes) albeit set a decade before the actual incident.
An actors director, Miller got Phillip Seymour Hoffman an Oscar for Capote and a nomination for Brad Pitt in Moneyball. He himself looks to be in his comfort zone with a mellow and morose look in a tale that seems pretty dark plus he did win an award at Cannes. The story is intriguing and intense and the film as a whole has been praised as brilliance even though the acting nominations already overshadowed the film just as Carell's first picture as Du Pont came out last year. With rave reviews, this one edges out the three behind it.
On the other hand, despite the dark matter could this film overturn itself thanks to its predictable ending and become an Oscar bait film. Only time will tell.
Sorry, I have to say more on the acting front but while Tatum is clearly showered praise as the surprise lead of the film he might not be so nomination time. As seniority takes precedence and the skewed rules of the Academy rule, then Tatum and Carell will be switched over in their sections. Mark Ruffalo to some gives the most emotional performance, but since he's not changing up much from his usual roles, he's being overlooked (an Underdog nominee perhaps?)
Chances: Best Picture (75%), Best Director-Bennett Miller, Best Original Screenplay, Best Leading Actor-Steve Carell, Best Supporting Actor-Channing Tatum and hopefully Mark Ruffalo
This film would have been far down the list alongside Theory of Everything, if it weren't for one thing.
At TIFF this year the film went on to win the People's choice award, now that necessarily might not sound like something that could dazzle the Academy. But for the past few years it has been a major indicator of what's to come down the road.
Previous winners have included 12 Years A Slave, The King's Speech and Slumdog Millionare. Three films that have weathered the road to go onwards and win the coveted prize. While it has also been contended by the likes of Precious and Silver Linings Playbook.
In fact it really pushes the film out there and places it onto the eye lines of Academy voters. Specifically when all things said and done, the film is full of concepts that the Academy just loves. The first being that the film is the true story of cryptologist Alan Turing during the second World War when he and his team decoded vital German information that helped win the war.
The second as mentioned is that it takes place during World War II and the final that Turing was a gay man, with the film highlighting his fight for rights. Although early reviews and controversies suggest otherwise in the last bit.
Still, featuring what could be a really deep and strong screenplay backed by some excellent performances from its cast especially leading man Benedict Cumberbatch could see this film through to the top. Since this has Oscar bait written all over it.
Chances: Best Picture (85%), Best Adapted Screenplay, Best Leading Actor-Benedict Cumberbatch, Best Supporting Actor-Keira Knightley
3. Birdman or The Unexpected Virtue of Ignorance
Possibly the most shocking news to my ears was when Michael Keaton starer Birdman was touted as a heavy Oscars contender. Now I know that director Alejandro Gonzalez Inarritu has been an awards favorite for a long time with nominations for films like Babel to Amores Perros, yet Birdman is such an out there concept. You just need to look at the trailer, to think how weird it is.
To top it off, it's so meta considering the lead actor is former Batman; Michael Keaton. Yet that's where the film really clinches it, it's Michael Keaton in a blazing comeback trail and what seems to be a performance that could guaranteed win him the gold.
The comeback trail worked in favor of The Wrestler thanks to Mickey Rourke's stellar comeback performance that carried a dark albeit still Oscar bait film to the nominations. Yet Birdman's just so odd.
Sorry I keep on going back to the same point, but seriously when the film was making headlines at the beginning of this year I expected it to be a major feature in my Underdog Awards yet now it could clinch the big ones.
This is something awesome to think off, cause apart from Boyhood (which you'll see just below) this is the other film that seems like an out there concept and one of the truly best films of the year that deserves to go up on stage. Of course I'm staging my opinion from early reviews and the trailer.
Chances: Best Picture (85%), Best Director-Alejandro Gonzalez Inarritu, Best Original Screenplay, Best Leading Actor-Michael Keaton, Best Supporting Actor-Edward Norton and Emma Stone
One other film I expected to be showering praise on this year while chastising the Academy for not taking a gander at it is none other than Boyhood. I'll be watching this, this weekend so yay me. But let's get back to the point.
Boyhood is one of the most ambitious projects to come out of Cinema, like ever. Of course being Richard Linklater, you wouldn't expect anything not amazing from him. Linklater shot this film across twelve years, detailing the fictional journey of his young character into adulthood amidst his family life.
Basically that's what this film is, it's about life. No major conflicts, no world dominating mad men, no girl to woo and reconcile with just a boy becoming a man and experiencing the normal hardships of life.
Apart from GoTG, this is the movie that the world is abuzz about. This is the movie that many tout could win that Oscar. Yet I'm not so convinced. This is a movie that has just released at the edge of the Awards circuit. It's a film that is bound to attract award attention, most likely even get nominated but not win.
Even though last years 12 Years A Slave won, despite its Oscar baiting subject it was a harsh and fair look at the time, this year Boyhood is a different case. It doesn't have an underrated director (Steve McQueen) but a totally ignored (Richard Linklater) one at its helm and neither is based on a real subject or for that matter a topic the Oscar loves to hand its award to.
Another thing that I have to mention and I've mostly forgotten to mention with the other films is the big politicking factor. Every film has a certain studio backing it and campaigning for it. To me IFC, the backers for Boyhood don't seem a strong bet when it comes to going up against heavyweights such as the Weinstein company. (Sorry I haven't talked about this major factor a lot, because I don't know much about it).
The most I can really hope for with Boyhood, is that it's near universal acclaim carries through and if not at least Richard Linklater picks up the direction nomination and even the win.
Like with 2011's Tree of Life or 2012's Beasts of A Southern Wild, Boyhood could be that little indie that could just burst free to the nomination ballot. A win though from my viewpoint seems unlikely.
For this film it all has to go down to; Campaigning, Campaigning, Campaigning.
Chances: Best Picture (85%), Best Director-Richard Linklater, Best Original Screenplay, Best Supporting Actor-Patricia Arquette
You just have to see that moving and inspiring trailer to believe that Unbroken will not only be the guaranteed nominee at the Academy Awards but also possibly the winner.
Now don't get me wrong here, the trailer is moving and Jack O'Connell is moving in just those few minutes. Yet the one thing nobody can deny is that this film is serious, serious Oscar bait stuff. It checks of everything that the Academy loves, from its inspiring true story about not only an Athlete but one who patriotically fought for the country during World War 2.
Heck, even if the film fails critically by being to overly schmaltzy, it will still be right up there alley.
Which brings me to another big factor, the film is being directed by a beloved Hollywood A-Lister Angelina Jolie who I'm sure has a lot of friends in the Academy.
I don't want to insinuate anything, or say that Jolie would not have worked hard for this film. If you listen to her interviews about this one, the subject matter is really close to her heart and you genuinely feel it.
This might not sweep the major award but when it comes to best picture, it's at the top.
The only thing I feel sad about or for is Jack O'Connell. The young actor seems to be giving a magnificent performance, yet comes the major awards I doubt he'll be nominated just yet (eventually he'll get one award but not now).
His breakout role in Starred Up was amazing and this one looks equally epic. Still he'll have to wait, maybe an Underdog Award is in his future?
Chances: Best Picture (100%), Best Director-Angelina Jolie, Best Adapted Screenplay
BTW the chances on this post are for nominations, not for wins. This means that each film has a certain percentage of a chance of being nominated.
Now below I've listed how the awards nominees will look in my book. Note that for other awards besides the film ones I've decided on from films I've seen to other trailers and reviews I've seen.
From my predicted, the ones I want to win are

Italic

and the ones I think will win are

Bold
Best Picture

Best Director

Richard Linklater-Boyhood

Birdman

The Imitation Game

Angelina Jolie-Unbroken

Bennett Miller-Foxcatcher

David Fincher-Gone Girl

Theory of Everything

Fury

Alejandro Gonzales Inarritu-Birdman

Best Original Screenplay

Best Adapted Screenplay

Birdman

Unbroken

Boyhood

Gone Girl

Whiplash

The Imitation Game

Interstellar

Wild

Fury

Inherent Vice

Best Actor in A Leading Role (Male)

Best Actor in A Leading Role (Female)

Michael Keaton-Birdman

Reese Witherspoon-Wild

Benedict Cumberbatch-The Imitation Game

Julianne Moore-Still Alice

Steve Carell-Foxcatcher

Amy Adams-Big Eyes

Eddie Remayne-Theory of Everything

Felicity Jones-Theory of Everything

Ralph Fiennes-The Grand Budapest Hotel

Meryl Streep-Into The Woods

Best Actor in A Supporting Role (Male)

Best Actor in A Supporting Role (Female)

JK Simmons-Whiplash

Patricia Arquette-Boyhood

Channing Tatum-Foxcatcher

Keira Knightley-The Imitation Game

Edward Norton-Birdman

Anna Kendrick-Into The Woods

Mark Ruffalo-Foxcatcher

Emma Stone-Birdman

Albert Brooks-A Most Violent Year

Anne Hathaway-Interstellar
Also let's remember that these are my nomination according to what other reviewers and predictions are saying. This by all means does not mean that these are the actors I want to see win awards, but the awards don't run according to my taste.
To know what I thought of the year watch out for my Underdog Awards post, Academy Awards predictions and 'What My Academy Awards would look like' post early next year.